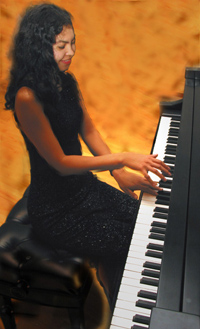 Dina Bodaubay
Education:

Doctor of Musical Arts in Performance and Pedagogy
University of Colorado at Boulder, CO 1999-2005
Master of Music in Performance
The Cleveland Institute of Music, 1996-1998
Diploma with Honor
Almaty State Conservatory, Kazakhstan, 1991-1996
Diploma
Baiseitova Special Music College for gifted young people, Almaty, Kazakhstan, 1980-1991
Music Experience:

Solo recitals in different concert halls in Almaty, Kazakhstan, including concert in American Embassy
Performances with Symphonic Orchestra of Kazakhstan
TV and Radio recordings on National Kazakh Television
Chamber appearances with different instrumental ensembles, 1988-present
Performances with the New Music Ensemble, Cleveland, OH, 1997
Performing as a duo with sister-violinist
Teaching in Almaty Conservatory (member of piano faculty in 1998-1999)
Private teaching, 1992-present
Graduate teaching assistant, University of Colorado, 1999-2002
Teaching for Continuing Education at University of Colorado, 1999-2003
Member of Mu Phi Epsilon International Music Fraternity since 1999
Organist in different churches in Cleveland, OH and Boulder, CO
Composing music (was admitted and offered a scholarship to study for Master degree in composition in Cleveland State University, 1999)
Awards:

Laureate of Republic Baiseitova Competitions (1985, 1986)
Grant from Piano department of Almaty Conservatory (1991)
Grants from Ministry of Culture for participation in International Ettlingen piano competition (Germany, 1992) as well as in Master-Classes and Festival of French piano music in Paris (France, 1994)
Certificate of Performance from FPI
Finalist of President Program "Bolashak" -- scholarship to study in the US, 1996-1998
Graduate Assistantship, University of Colorado, 1999-2002
Nancy and Ted Anderson Performance Award, University of Colorado, 2003-2004
Dina Bodaubay started playing piano at the age of 4. At age 8 she entered and later graduated from the special Music College for Gifted Children in Almaty, Kazakhstan. She began to compose at age 8 and her compositions won first prize at a local art contest. During her studying there she became twice a Laureate of Republic Baiseitova Competition. She was a member of a group performing their compositions in different locations throughout the city. On her final college state exams among other works she performed her own composition as a required Kazakh piece.

In 1992 she was the only pianist from the Central Asia to be selected to participate in the International piano competition in Ettlingen, Germany, where she received Urkunde (Diploma). Her trip was sponsored by a grant from the Ministry of Culture of Kazakhstan.

In 1994 she participated in master classes and concerts at the French Piano Institute in Paris at the Ecole Normale de Musique de Paris, with famous French pianists and composers - including Henry Dutilleux and his wife Genevieve Joy, Roger Muraro, Noel Lee, Dominique Merlet, and an American-born pianist David Lively who currently resides in France. She completed her studies at Almaty Conservatory, graduating with Honors in 1996.

Ms. Bodaubay's past performances include appearances with the Kazakh Symphony Orchestra, solo recitals, and chamber concerts in different music halls of Kazakhstan as a violin-piano duo with her sister, Yenlik Bodaubay. Her performances include an appearance at the American Embassy in Almaty, Kazakhstan. She has also appeared a number of times on National Television.

In 1996 she received a Presidential Scholarship to study in the United States and went to Cleveland, OH, where in 1998 she received her Master's of Music degree from the Cleveland Institute of Music. At CIM she studied with Sergei Babayan, Olga Radoslaveyevich and Sergei Shapiro. As a member of the New Piano Ensemble Dina Bodaubay performed works of contemporary composers on concerts and conferences in Cleveland. She also took a year's course in composition from the well-known American composer, Margaret Brouwer. Dina's piece for piano, 2 violins and flute was successfully performed at a CIM recital - the only work of a non-composition major student featured at the concert.

In 1998 she served briefly as a faculty member at the Almaty Conservatory, after which she received a Graduate Assistantship at the University of Colorado at Boulder in 1999. Though she was offered a scholarship for Master's Degree studies in composition at Cleveland State University, she opted to undertake her DMA at the University of Colorado at Boulder in piano performance and pedagogy, which she completed in December of 2005.

She has been a recipient of number of grants and scholarships, including a grant from the piano department of Almaty Conservatory, two grants from Ministry of Culture of Kazakhstan, and the Nancy and Ted Anderson Performance Award from the University of Colorado.

In 2007-08 Ms. Bodaubay served as a Cultural Affairs Specialist at the US Embassy in Astana, Kazakhstan working on cultural programming. As a planner and coordinator she was responsible for identifying and planning cultural events of great scope and complexity throughout the country. She also coordinated visits of US artists and organized concerts, exhibits, festivals, international conferences and other cultural events.
Currently she is teaching at the University of Colorado at Denver and privately.