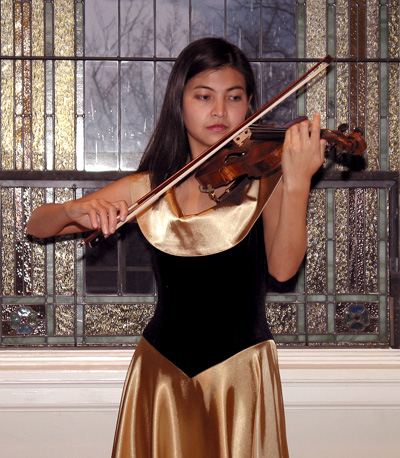 Yenlik Bodaubay
Yenlik Bodaubay started her violin study at the age of 7 at the Music College for Gifted Youth in Almaty, Kazakhstan. By age 16 she was a soloist with the professional chamber orchestra Nota Bene, and was chosen as the only violinist from Kazakhstan to perform with that orchestra on tour to Bishkek, the capital of the neighboring country Kyrgyzstan. At 17 she became a Laureate of the Republic Competition and as a result has performed the Sibelius Violin Concerto with the Kazakh National Symphony. As a concertmaster and a soloist of the college chamber orchestra she went on successful tours to Munich (Germany) and Chicago (US), where she performed at Northwestern University, among other locations.
Yenlik was awarded a diploma at the International Competition in Turkmenistan in 1995 and graduated from Almaty State Conservatory with honors in 1997. Her duo recital with her sister, pianist Dina Bodaubay, has been featured on Kazakh National TV. During the summers of 1993-95 she was a member of the International Symphony and Chamber orchestras in Bayreuth, Germany. As a recipient of the prestigious Kazakh presidential scholarship "Bolashak" for outstanding graduates, she came to US to study for her master degree in 1997. She studied at Duquesne University in Pittsburgh, the Cleveland Institute of Music, and Cleveland State University.
In 2001-2002 at the University of Colorado, Boulder Colorado, Yenlik was a graduate assistant in the studio of Professor Oswald Lehnert. Also at CU Boulder, she took coaching from the Takacs String Quartet, collaborated with professor Anne Epperson and was selected to appear in the master classes with Donald Weilerstein, from whom she also took lessons in Cleveland and Boston. In 2002 she was a winner of the El Paso Symphony Orchestra Guild Young Artist Competition in Texas.
In March 2005 Yenlik's performance of Brahms Sonata.No. 3 with pianist Andrew Palmer Todd was featured on Colorado Spotlight, KVOD Denver . Also in 2005 she had: solo performances including Beethoven Violin Concerto with the Steamboat Springs Chamber orchestra, Barber Violin Concerto with the Aurora Symphony Orchestra under direction of Richard Niezen, and performances with her sister Dina, in the Artist Series in Orange City, Florida.
In December 2005 Yenlik completed her doctorate in violin performance - DMA at the University of Colorado. In addition she was awarded an Enrollment Enhancement Fellowship, a Graduate Fellowship, and an Adopt-A-Student Honors scholarship.
In November 2007 Yenlik moved with her family to La Canada, CA and is currently active as a performer and teacher in Los Angeles area.
Influential teachers include S. Abdusadykova, N. Patrusheva, A. Musahodzhaeva, V. Uzbekov, D. Updegraff, O. Lehnert, and D. Weilerstein.
Yenlik enjoys spending her free time with her husband and 11year old daughter, Iris. She thanks all of her great friends, her teachers, and her parents for their love and support.